Announcing HATCH 2021!!!!
For our third consecutive season, we are so excited to present HATCH, Continuum's annual summer music mentorship project for performers, composers and conductors made possible with the generous support of The Azrieli Foundation.
This year, we received over one hundred applications and our jury selected the following participants:
Composers: Alissa Cheung, Jesse Plessis, Megan Harton
Performers: Danielle Green (violin), Evan Lamberton (cello), Joey (Xiaoying) Zhuang (flute), Noah Stone (clarinet), Megan Thibeault (piano), Tyler Cunningham (percussion)
Additionally, this season we are proud to partner with Tapestry Opera and other partner organizations across Canada for the Women in Musical Leadership program, designed to dramatically increase the Conductors' practical experience, relationships, and skills. As a result, we welcome conductors Jennifer Tung and Juliane Gallant who will mentor with Brian Current.
Mentors: Hope Lee (composer), Martin Arnold (composer), Carol Fujino (violin), Paul Widner (cello), Leslie Newman (flute), Anthony Thompson (clarinet), Gregory Oh (piano), Ryan Scott (percussion)
In 2019, we toured HATCH to several summer music festivals after an intense rehearsal period in Toronto and last year, amidst the pandemic, we were able to continue HATCH with home capture recordings and digital mentorship.
This year we present a hybrid version of HATCH, in digital broadcast format, with professional studio recordings of our participants. We are also delighted to continue our relationship with summer music festivals and are so pleased to announce that HATCH 2021 will be presented by Ottawa Chamberfest! Stay tuned for broadcast links on August 6th. And if you miss that window, we'll rebroadcast the episodes on Continuum channels August 27th-29th.
The culmination of these efforts will result in three short broadcasts each including solo works and one world premiere chamber composition assembled digitally and introduced by HATCH composers. Solo works include composers Nicole Lizée, Hope Lee, Ana Sokolovic, Christopher Cerrone, John Corigliano and Andrew Staniland.
Lessons and learning sessions began in May and the results so far have been incredible and inspiring! Stay tuned for more information on our broadcasts of these phenomenal up-and-coming next generation of contemporary music artists!!!
Welcome to Continuum's 37th season!!
In 2021/2022, we continue to evolve our digital practices while simultaneously returning to the stage for in person concerts beginning in February!!
In the coming days, we will announce exciting details on HATCH, our annual summer music mentor ship project funded by The Azrieli Foundation culminating in multi-platform digital broadcasts in August. And we will introduce you to a huge project we've been working on all year – a fully interactive digital archive dating back to our first concert in 1985 and packed with information on all our activity to date! This archive, our new website and our 21/22 graphic design is all created by Mouthoftiger.
Starting in September, we continue Press Play, our recurring web series featuring exclusive performances of extraordinary solos and duos recorded in high quality at the Canadian Music Centre in Toronto. Each jam-packed episode includes intimate and informative conversation on the how and why behind the music with the artists themselves. This season, we feature many composers and special guests including Ian Cusson, Tyshawn Sorey, Dorothy Chang, Keiko Harada and Mauro Zannoli with Marion Newman (mezzo soprano), Rachael Kerr (piano), Gregory Oh (piano), Rob MacDonald (guitar), Matti Pulkki (accordion) Carol Fujino (violin), Joyce To (percussion) and Sanya Eng (harp) and many others.
On the weekend of February 25th-27th, 2022, we return for a very special in-person event in collaboration with Jumblies Theatre + Arts (our second major project together) titled Grounds for Goodness in Mississauga's incredible Small Arms Inspection Building.Together we have commissioned two new music-driven works featuring world premieres by Christina Volpini (CA) and Robert Fleitz (US). These works respond to themes from a Jumblies multi-year interdisciplinary project, Grounds for Goodness: a suite of new works artfully exploring and expressing why and how people sometimes behave in good ways towards each other. This collaboration excitingly interweaves Continuum's contemporary music practice and professional ensemble with Jumblies interdisciplinary and community-arts practices, including many diverse and mixed-ability community participants.
And we have many other special projects and other surprises planned throughout the season!!!
Stay tuned for more information by subscribing to our newsletter below, and if you like what we're doing, please make a donation now!
HATCH 2021 Call for Applications!
ATTN: EARLY-CAREER PERFORMERS and COMPOSERS
UPDATED April 23, 2021: With the current lock down situation in Ontario, we have decided to make a decision now on how this program will take place in June – August, rather than waiting until Mid-May as originally planned
We are delighted to announce that with the ongoing support of the Azrieli Foundation, we are able to continue our annual HATCH mentorship program for early-career performers and composers this summer, now in its third year.
For: self-identified EARLY-CAREER COMPOSERS AND PERFORMERS
Free to apply and the program does not have a tuition fee.
NEW DEADLINE: May 7th, 2021
APPLICATION FORM BELOW
TIMELINE
HATCH runs from June – August, 2021 – schedule TBD.
As most summer music festivals have cancelled activity for this season, our original intention to include 5 chamber works (3 from mentee composers and 2 from mentor composers) in multiple performances on tour is no longer possible. However our intention is still to provide a meaningful, unique and high-quality learning experience for HATCH participants. Most of this year's activity will take place online (all individual lessons), but we will continue to look for every opportunity to work in person. To get a sense of the 2020 program and how we adapted to condition last year, visit our YouTube playlist.
This year performer participants will be working online with the Continuum core ensemble, and composers with mentors Hope Lee and Martin Arnold.
Performers
The six selected performers will:
Receive mentorship in their instrument from Continuum's core ensemble throughout the process. Mentors: Leslie Newman (fl), Anthony Thompson (cl), Carol Fujino (vn), Paul Widner (vcl), Gregory Oh (pno), and Ryan Scott (perc);
Prepare a solo work assigned by their mentor for digital presentation and documentation on Continuum's Youtube channel;
Work on 3 new remotely assembled works. Each performer will be given their part of an ensemble piece for recording. These parts will be later assembled for video presentation;
Receive a $600 honorarium.
Performers do not need their own recording equipment. Continuum will provide recording equipment and instructions, sanitizing all equipment prior to delivery, and utilizing "leave at door" delivery practices. Acknowledging that every participant will approach our online program with different experiences using audio and video capture equipment, we will also be providing additional specialized support in how to optimize your at-home documentation set-up from audio engineer Dennis Patterson (Big Smoke Audio/ CBC). For performers in the GTA, we have reserved time at the Canadian Music Centre July 24-30 for professional documentation of your works. It may be possible to include in-person recording with strict health protocols in place at that time. 
Final repertoire to be selected by June 1.
Composers
The task of the composer for HATCH 2021 is one that specifically responds to current music making practices that have emerged during safety measures being taken during the COVID-19 pandemic.
Composers should plan the majority of activity to happen between May 15 – July 6 (composition), with interaction with performers July 24-30.
The three selected composers will:
Write a maximum 10 minute remotely assembled piece for Continuum's HATCH ensemble (fl, cl, pno, perc, vn, vc). Each part should be made to be performed and recorded from the performers' homes. Each part will have audio and video capture, which will then be assembled into a video with all of the parts;
Receive mentorship from Hope Lee and Martin Arnold; and
receive a $600 honorarium.
Decisions will be arrived at by juries consisting of selected mentors and Continuum staff. Results will be announced May 15th, 2021.
Sointu Aalto is the 2021 Teen Composer Award winner!
We are absolutely delighted to announce this year's recipient, Sointu Aalto, based in Edmonton! She will write a string trio for Continuum that will be premiered online with the other 6 world premieres from our national PIVOT program in April.
Sointu has begun her private lessons with Christina Volpini, whom we feature later this season in Grounds for Goodness with a world premiere, and we hope by then, with you and in person, or online as needed.
Described as a delightful musician with flair, Sointu Aalto (b.2004 in Helsinki) is a passionate cellist and composer. Recent winner of the Arcady Ensemble's 2019 emerging composer competition, CFMTA's national 2020 student composer competition, and ACNMP's national 2020 emerging composer competition, her music is characterised by intense sonic atmospheres and disturbing beauty. She studies cello with Josephine van Lier, and composition with Heather Hindman. She is a member of the Edmonton Youth Orchestra and the Jams string quartet, and got an honourable mention in Boulder Bach's High School World Bach Competition.
You can listen to Sointu's work on YouTube and Soundcloud.
2021 PIVOT COMPOSERS ANNOUNCED!
We are delighted to announce the 2021 PIVOT participants with their first-choice mentors!
Joseph Chiu with Linda Bouchard
Kim Farris-Manning with Juliet Palmer
Liam Gibson with Matthew Ricketts
Kevin Gironnay with Bekah Simms
Carlie Howell with Emilie LeBel
Coreen Morsink with Andrew Balfour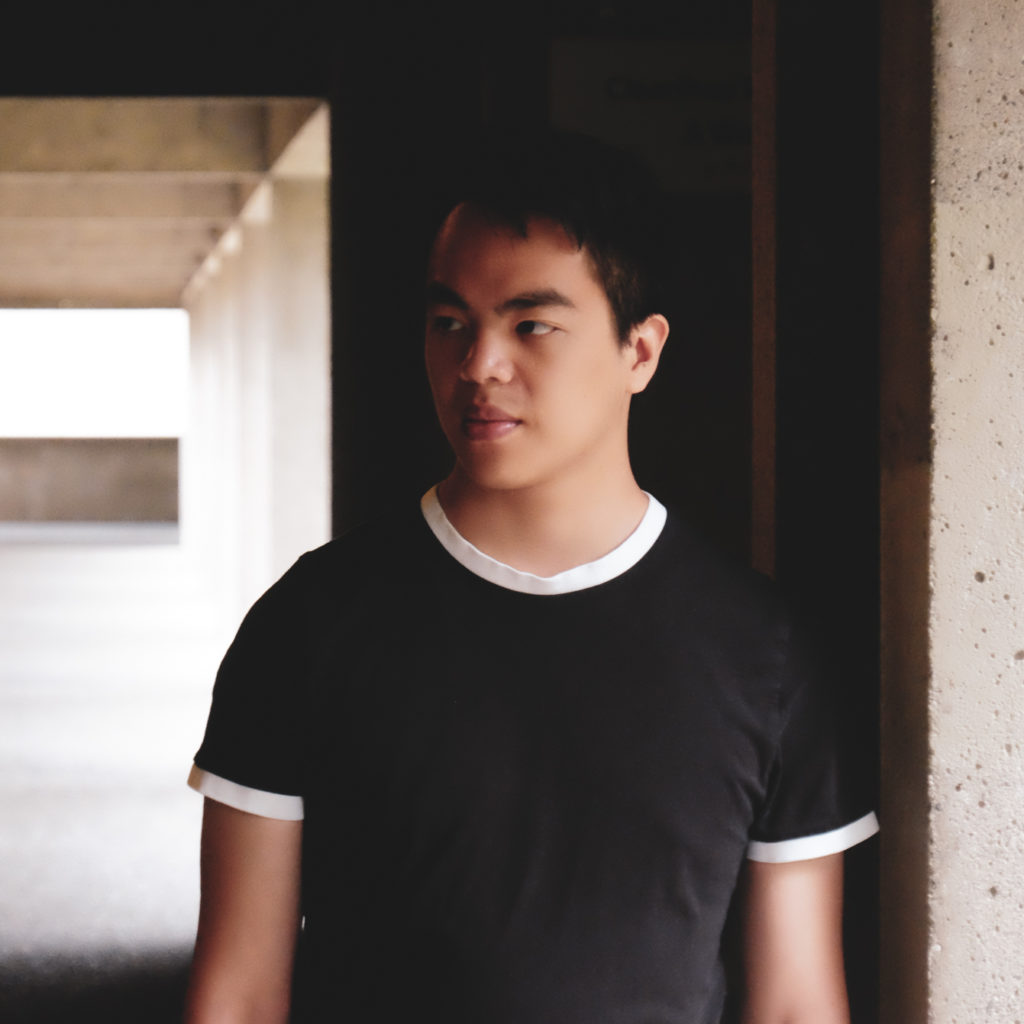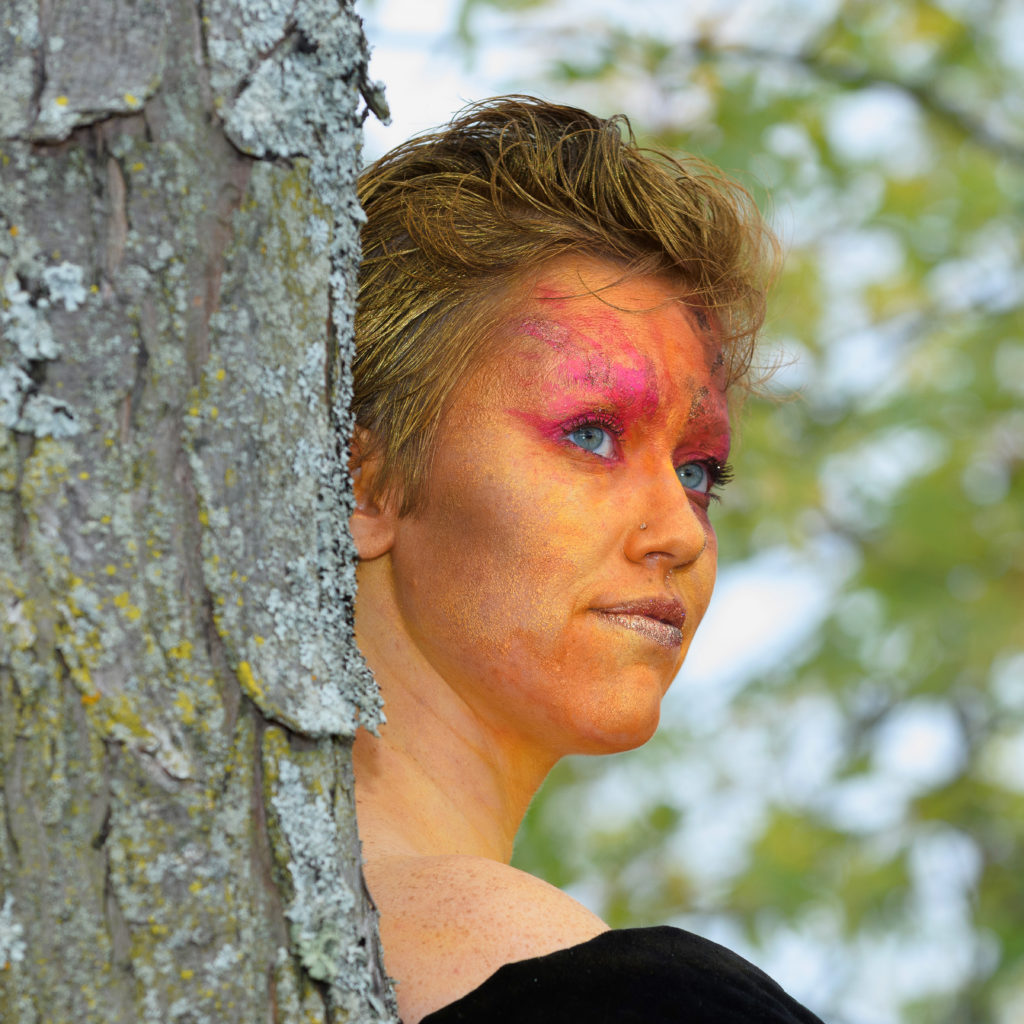 Joseph Chiu is a Canadian composer based in Ontario, Canada. He composes regularly for a diverse range of ensembles and his music has been presented in several provinces across Canada, as well as the United States. His body of work encompasses music for concert and film.
Joseph is a graduate of Wilfrid Laurier University as well as the University of Victoria where he earned his BMus in composition and MMus in composition respectively. His past mentors include Linda Catlin Smith, Christopher Mayo, Anna Höstman, and Gabriel Dharmoo.
A fun-loving queer arbor-artist based in Ottawa and Montreal, Kim Farris-Manning creates works across disciplines that engage with the performer and audience in unique ways. Interested in how relationships between objects are manifested through material changes over time, Kim manipulates sounds and materials to create a space in which to contemplate the fragility and contradictory nature of equilibrium. Allowing ideas to grow and change is a central facet of Kim's work; pieces are often made in versions, through a process of experimentation and collaboration with others. Kim's work has been experienced in performances worldwide led by organizations such as the Canadian Music Centre, Quatuor Bozzini, and the Ostrava Days Festival.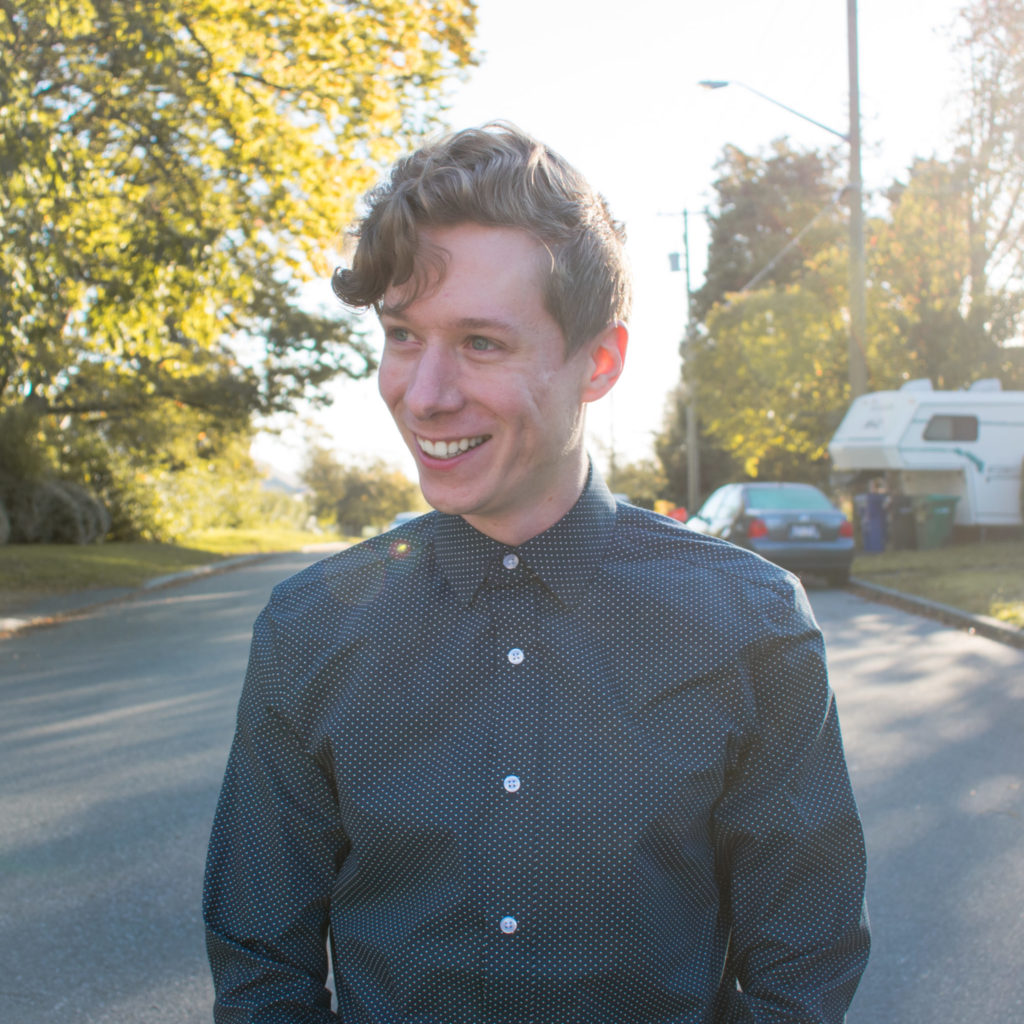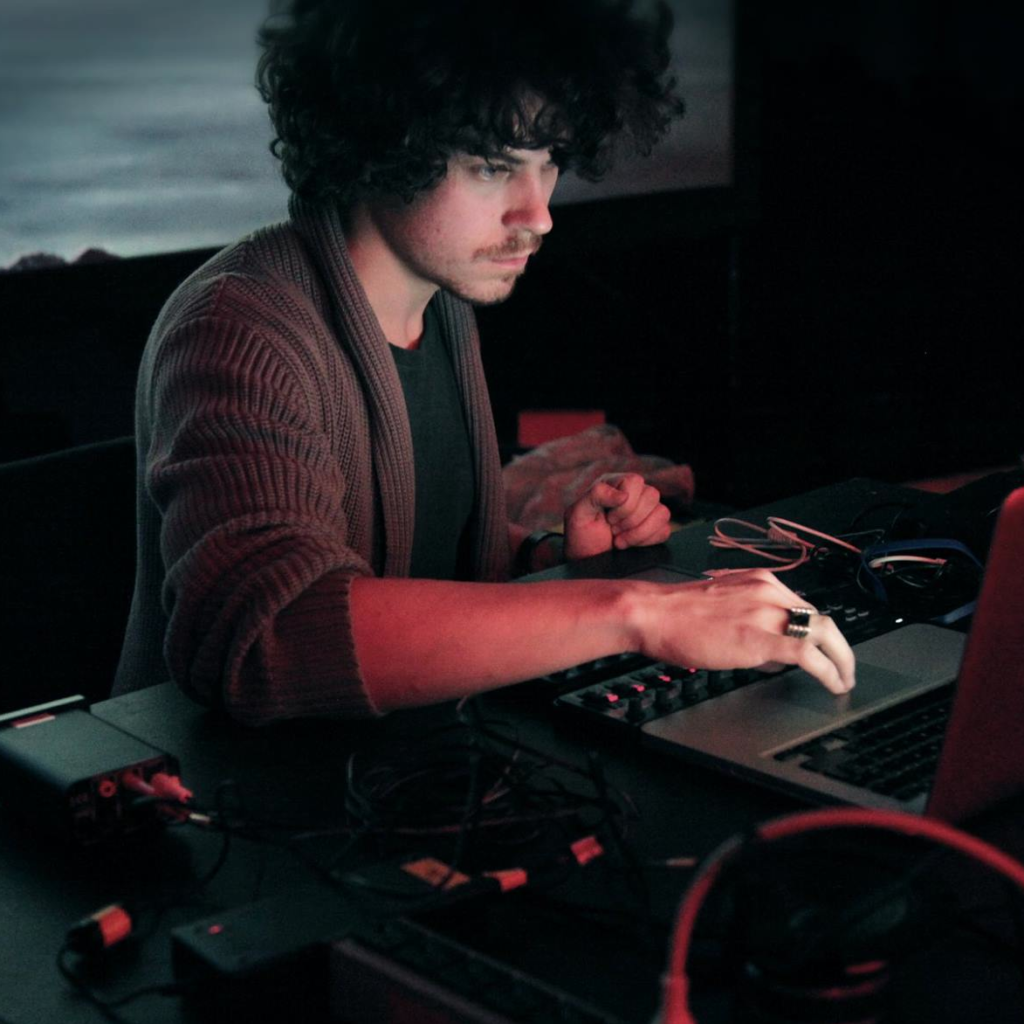 Possessed of an uncommonly eclectic palette, composer Liam Ross Gibson is emerging as a forward-looking voice in the Canadian music scene. Recent performance highlights include collaborations with Quatuor Bozzini, and the world premiere of Monstera Deliciosa by the Winnipeg Symphony Orchestra as part of their New Music Festival, which went on to win first prize in the large ensemble category of the SOCAN Foundation 2020 Young Composer Awards. Gibson holds a MMus in composition from the University of Manitoba; a BMus in composition and theory from the University of Victoria, and a diploma in jazz piano from Vancouver Island University.
Based in Montreal, Kevin Gironnay creates acousmatic and mixed music, produces music for sound installations, videos and dance, and performs improvised music, in solo or collaborations.
He has been influenced by the teaching of Christine Groult, Nicolas Bernier, Horacio Vaggione, Denis Dufour, Jacopo Baboni Schilingi, Lorenzo Bianchi and Giacomo Platini.
His music has been played in Canada, China, United States and throughout Europe, and has been released on multiple labels.
He is the founder and artistic director of Ensemble ILÉA. He also is a member of the collective Unmapped and of the research center CIRMMT.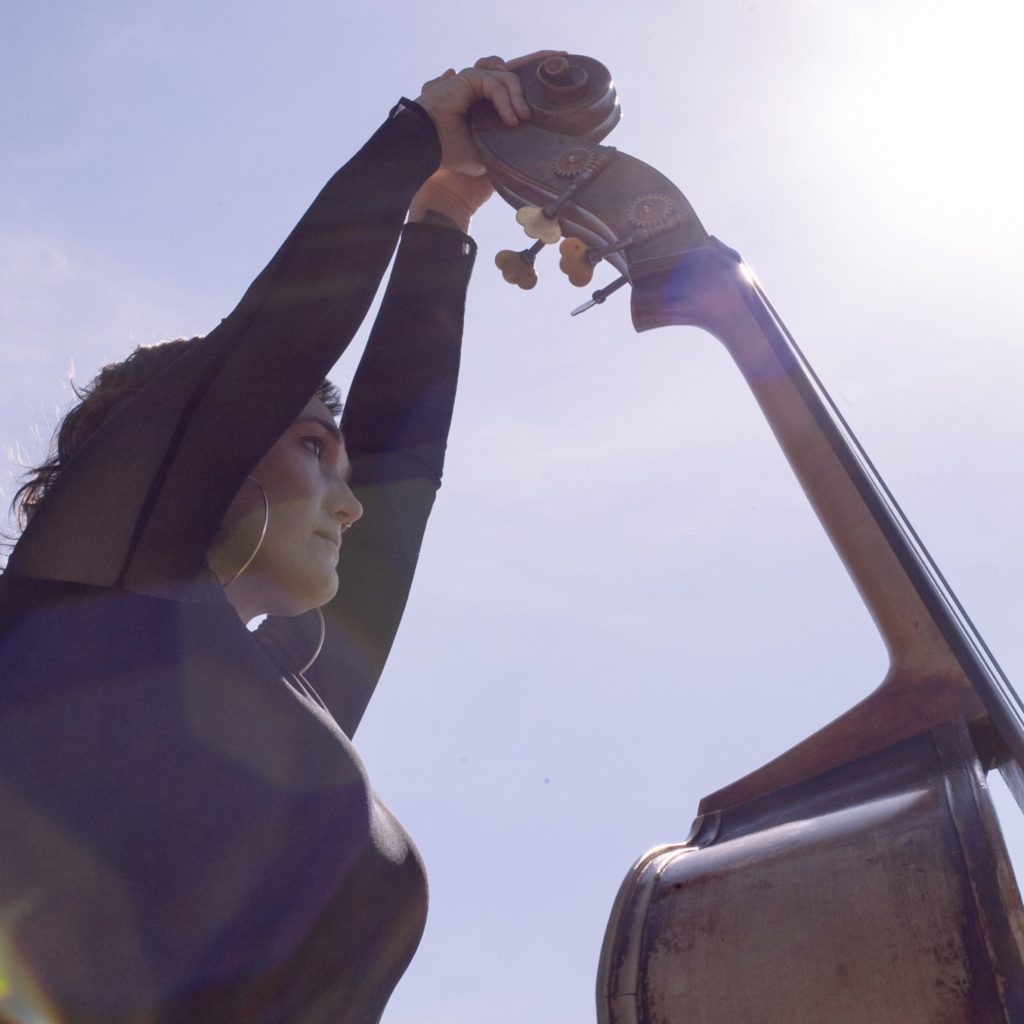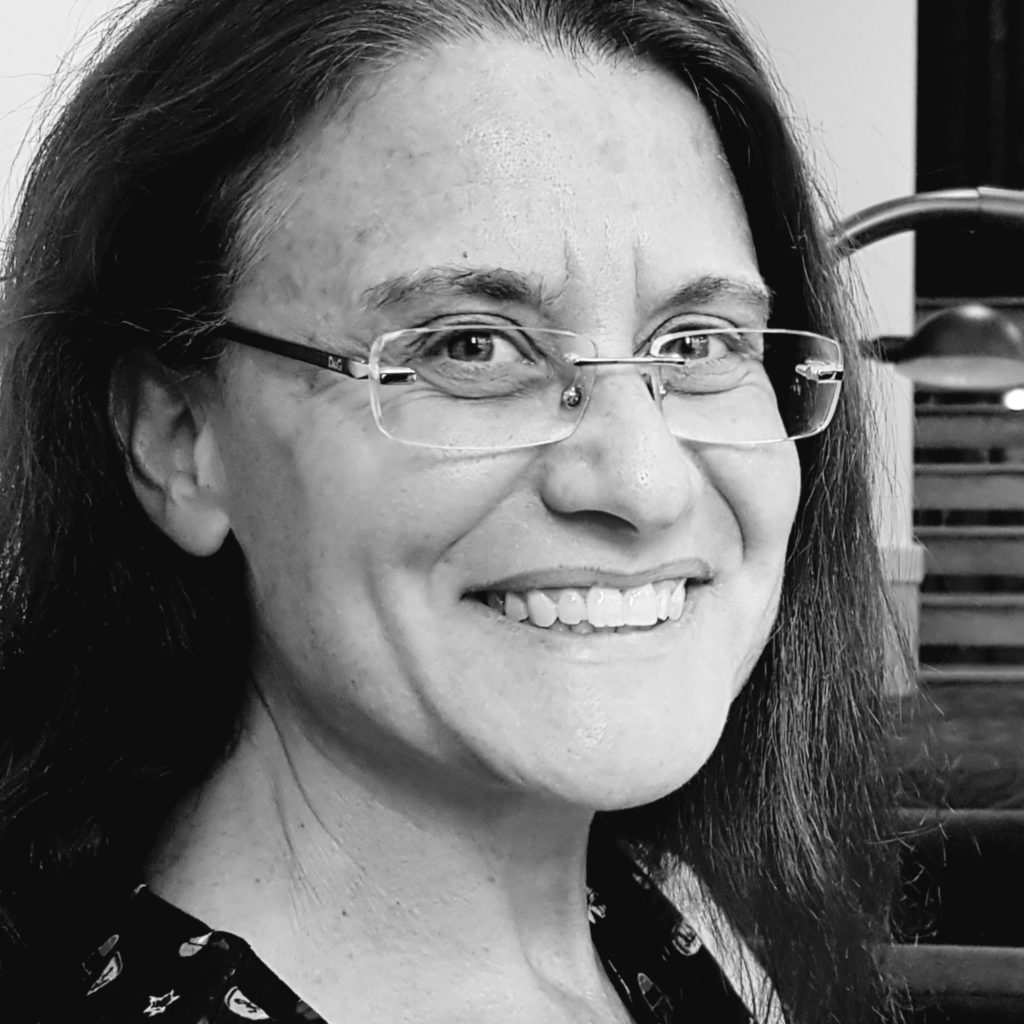 Carlie Howell is a composer, multi-instrumentalist, vocalist, and media artist. She has a degree in Jazz Performance on Bass from the University of Toronto, and has spent the last decade studying the music, movement, language, and pedagogy of Brazil. Her passion lies in collaboration, working and performing with composer-collectives, and fusing traditional styles with contemporary contexts. Carlie writes and arranges across genres, complementing timeless melodies with rich harmonies, rhythmic explorations, and autobiographical poetry in English and Portuguese. Her work explores themes of relationships, queerness, depression, redemption and, ultimately, love.
Coreen Morsink, Canadian/Greek composer, bases her compositions on ancient Greek music and unusual microtonal tuning systems. Her works have been premiered by Carla Rees, Chenoa Anderson, Karin de Fleyt, Mizuka Yamamoto, Kevin Komisaruk, 432 Chamber Orchestra (Ivan Yanakiev conducting), Sarah Watts, the invoke Quartet and Peter Sheppard Skaerved in Canada, USA, UK, Belgium, Bulgaria, Greece and on the BBC Radio 3. She has a PhD from Goldsmiths (Roger Redgate tutor), teaches at St. Catherine's British school, Athens and enjoys life in Greece with her husband and their daughters spending her spare time tending her flowers and swimming in the sea.
2021 Teen Composer Award
APPLICATIONS ARE CLOSED
The Teen Composer Award (TCA) will provide an invaluable and practical composition experience, one-on-one mentorship, professional development resources and an introduction to the Canadian contemporary chamber music community.
TCA Info:
Application deadline: November 25, 2020
During the late fall and winter of 2020 and early 2021, the selected composer will be mentored online by Canadian composer Christina Volpini, who will serve as a guide for the composition process.

The recipient of the award will compose a 5-8 minute work for piano trio (violin, cello, piano: unconducted) The selected composer's work will be given a pre-concert performance in late March during a digital concert broadcast as part of the 2021 PIVOT national early-career composer program in collaboration with the Canadian League of Composers and the Canadian Music Centre.

The recipient will receive high definition video and audio of the performance; this documentation will also be shared via Continuum's online platforms.
Previous Winners:
Previous Winners: Cindy Chen (2017), Erik Kreem (2018), Sarah Lu (2019), Zach Payne (2020)
Welcome to Our New Digital Home!
As we begin our 36th season, we launch our new website to connect better with you!
Our new website designed and developed by Xuan Ye is where you will find up-to-date information on upcoming events like our new PRESS PLAY digital episodes, as well as important announcements about mentorship opportunities. Links to our social media platforms and our YouTube archive of live concerts from the past 10 seasons are below, and if you would like to stay in touch on a more regular basis and with more detailed information, sign up for our project based newsletters.
Importantly, we are also working to create a searchable digital archive that will be accessible through this website. The archive will feature information on every concert, collaborative project and tour dating back to 1985 including programming, personnel, commissioning practices, audio and video recordings as well as graphics and design. This is part of a legacy project detailing Continuum's rich impact and influence on contemporary art music in Canada. Stay tuned for updates!
Thank you for visiting!
HATCH 2020 Videos
Hatch 2020 has wrapped and was a big success!
You can watch all three videos below:
Music on Programme 1:
Stand Alone (2019) composed by Michael Oesterle (CA), performed by Roxanne Sicard, violin
The Spirit and the Dust (2015) composed by Dinuk Wijeratne (CA), performed by Nikki Joshi, marimba
Between Lines* (2020) composed by Robyn Jacob (CA), performed by The HATCH 2020 ensemble
Music on Programme 2:
Lines (1999) composed by Harry Freedman (CA), performed by Madison Freed, clarinet
hiraeth (migrations no. 2) (2017) composed by Emilie LeBel (CA), performed by Florence Laurain, flute
abject* (2020) composed by David Foley (CA), performed by The HATCH 2020 ensemble
Music on Programme 3:vez (2005, rev. 2015) composed by Ana Sokolovic (CA), performed by Allison Rich, cello
Nocturne for ES** (2019) composed by Anna Höstman (CA), performed by Jackie Leung, piano
Nothing to do with Explosions* (2020) composed by Holly Winter (CA) performed by The HATCH 2020 ensemble
* world premiere/ ** Canadian premiere
Supported by
Dr. Peter Burns