Press Play Temporary Delay
Due to the current lock down in Ontario, we have had to delay the recording of several episodes of Press Play. We will post updates here, to our social media and email list about dates for upcoming episodes as soon as we have them.
In the mean time, while you wait for the remaining 8 episodes of the season, please enjoy our first 6 episodes HERE
Sointu Aalto is the 2021 Teen Composer Award winner!
We are absolutely delighted to announce this year's recipient, Sointu Aalto, based in Edmonton! She will write a string trio for Continuum that will be premiered online with the other 6 world premieres from our national PIVOT program in April.
Sointu has begun her private lessons with Christina Volpini, whom we feature later this season in Grounds for Goodness with a world premiere, and we hope by then, with you and in person, or online as needed.
Described as a delightful musician with flair, Sointu Aalto (b.2004 in Helsinki) is a passionate cellist and composer. Recent winner of the Arcady Ensemble's 2019 emerging composer competition, CFMTA's national 2020 student composer competition, and ACNMP's national 2020 emerging composer competition, her music is characterised by intense sonic atmospheres and disturbing beauty. She studies cello with Josephine van Lier, and composition with Heather Hindman. She is a member of the Edmonton Youth Orchestra and the Jams string quartet, and got an honourable mention in Boulder Bach's High School World Bach Competition.
You can listen to Sointu's work on YouTube and Soundcloud.
2021 PIVOT COMPOSERS ANNOUNCED!
We are delighted to announce the 2021 PIVOT participants with their first-choice mentors!
Joseph Chiu with Linda Bouchard
Kim Farris-Manning with Juliet Palmer
Liam Gibson with Matthew Ricketts
Kevin Gironnay with Bekah Simms
Carlie Howell with Emilie LeBel
Coreen Morsink with Andrew Balfour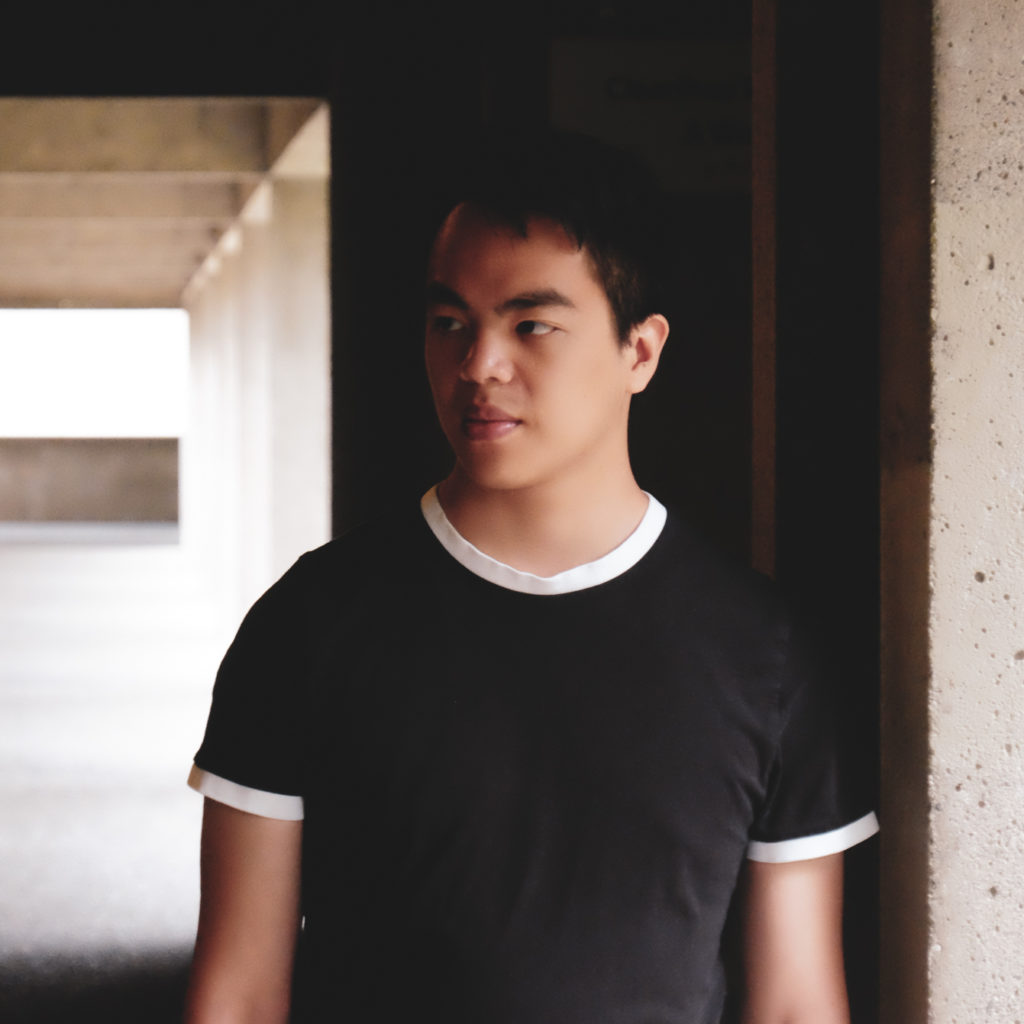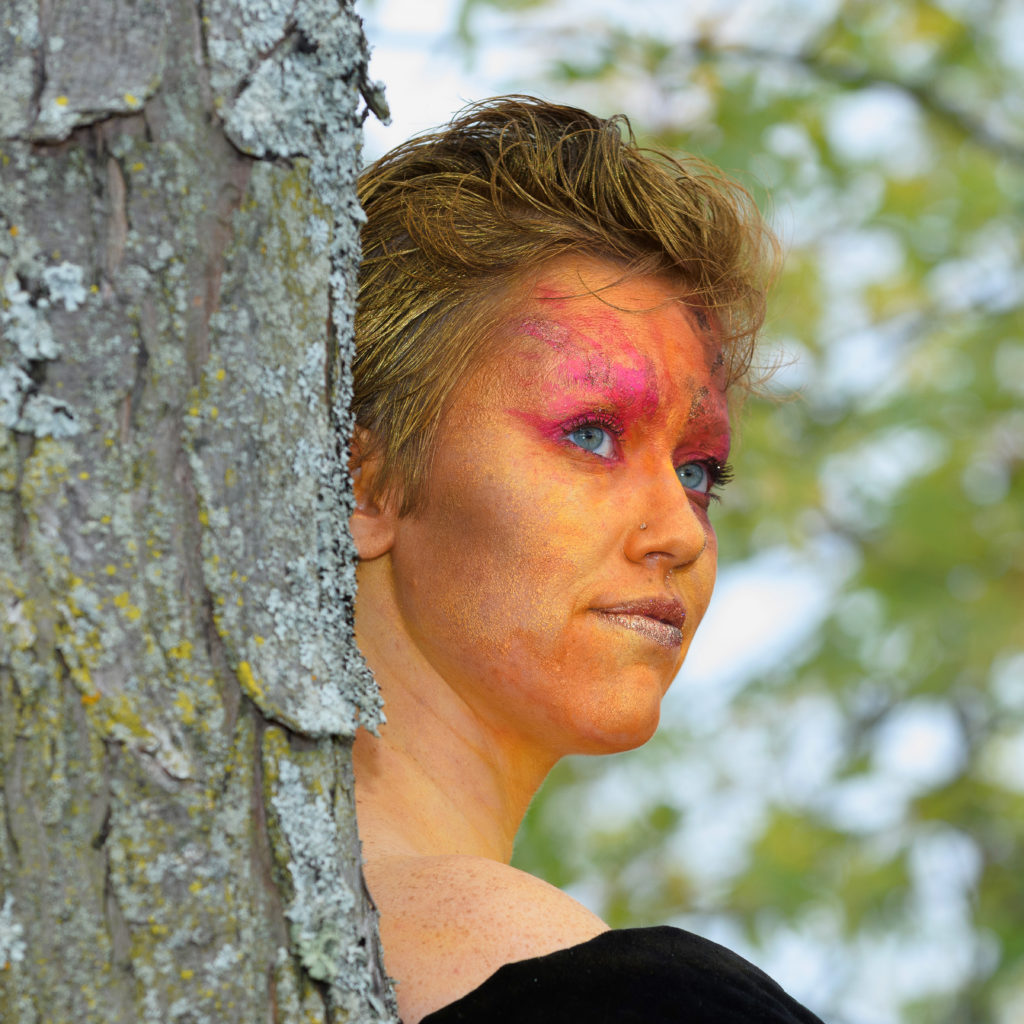 Joseph Chiu is a Canadian composer based in Ontario, Canada. He composes regularly for a diverse range of ensembles and his music has been presented in several provinces across Canada, as well as the United States. His body of work encompasses music for concert and film.
Joseph is a graduate of Wilfrid Laurier University as well as the University of Victoria where he earned his BMus in composition and MMus in composition respectively. His past mentors include Linda Catlin Smith, Christopher Mayo, Anna Höstman, and Gabriel Dharmoo.
A fun-loving queer arbor-artist based in Ottawa and Montreal, Kim Farris-Manning creates works across disciplines that engage with the performer and audience in unique ways. Interested in how relationships between objects are manifested through material changes over time, Kim manipulates sounds and materials to create a space in which to contemplate the fragility and contradictory nature of equilibrium. Allowing ideas to grow and change is a central facet of Kim's work; pieces are often made in versions, through a process of experimentation and collaboration with others. Kim's work has been experienced in performances worldwide led by organizations such as the Canadian Music Centre, Quatuor Bozzini, and the Ostrava Days Festival.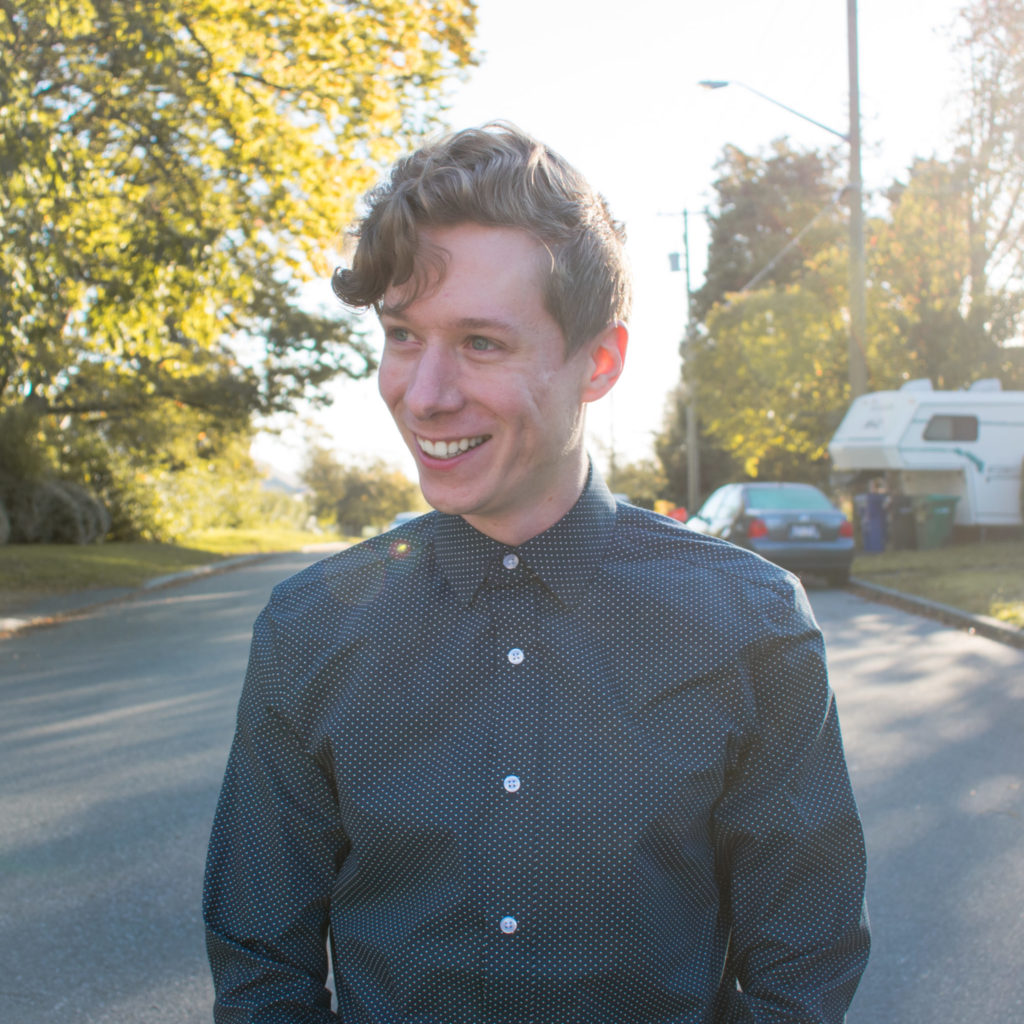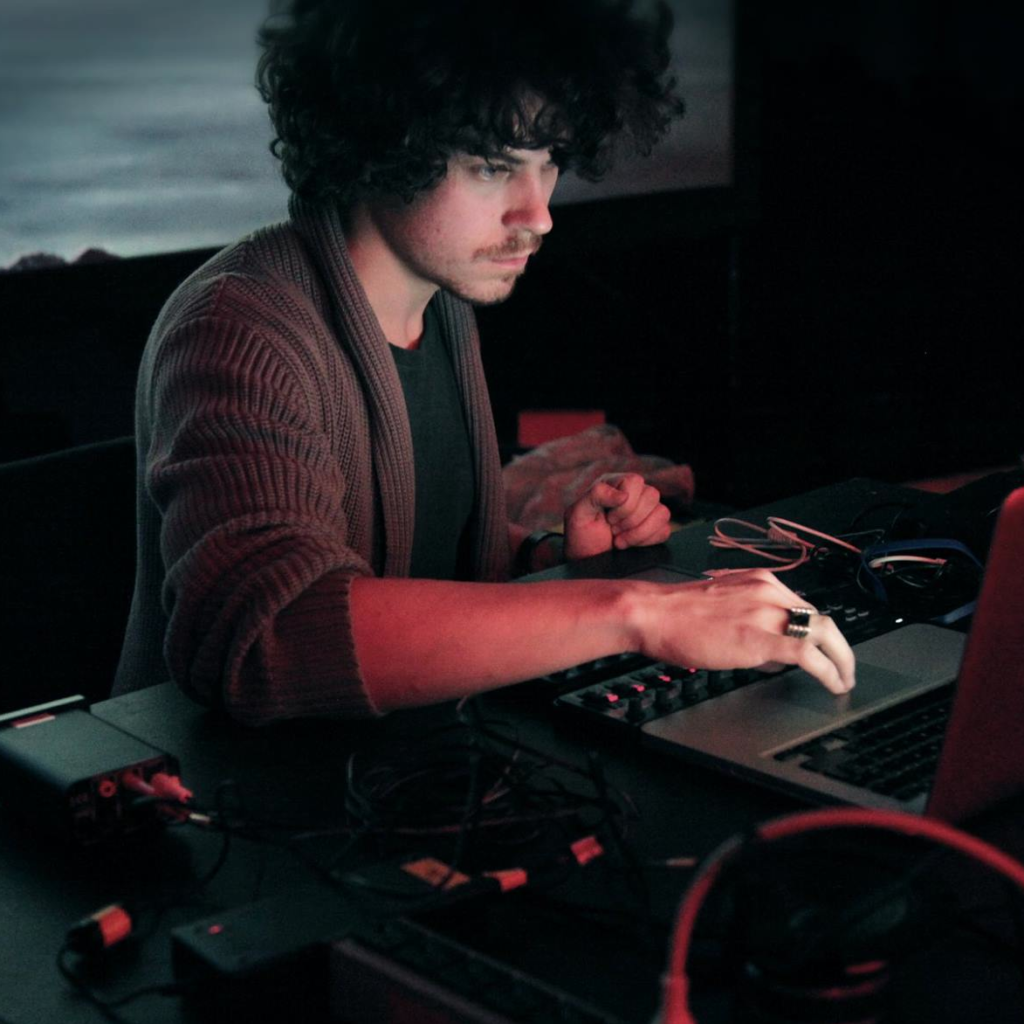 Possessed of an uncommonly eclectic palette, composer Liam Ross Gibson is emerging as a forward-looking voice in the Canadian music scene. Recent performance highlights include collaborations with Quatuor Bozzini, and the world premiere of Monstera Deliciosa by the Winnipeg Symphony Orchestra as part of their New Music Festival, which went on to win first prize in the large ensemble category of the SOCAN Foundation 2020 Young Composer Awards. Gibson holds a MMus in composition from the University of Manitoba; a BMus in composition and theory from the University of Victoria, and a diploma in jazz piano from Vancouver Island University.
Based in Montreal, Kevin Gironnay creates acousmatic and mixed music, produces music for sound installations, videos and dance, and performs improvised music, in solo or collaborations.
He has been influenced by the teaching of Christine Groult, Nicolas Bernier, Horacio Vaggione, Denis Dufour, Jacopo Baboni Schilingi, Lorenzo Bianchi and Giacomo Platini.
His music has been played in Canada, China, United States and throughout Europe, and has been released on multiple labels.
He is the founder and artistic director of Ensemble ILÉA. He also is a member of the collective Unmapped and of the research center CIRMMT.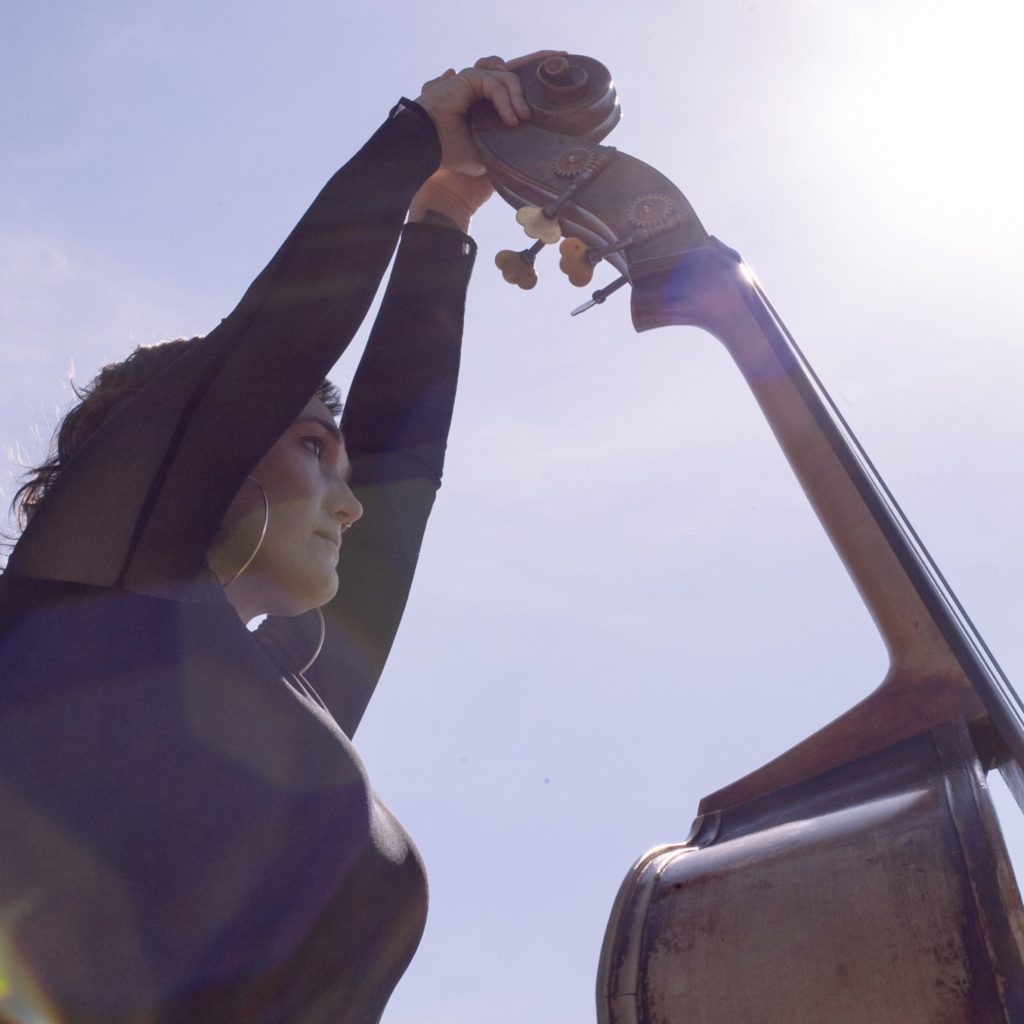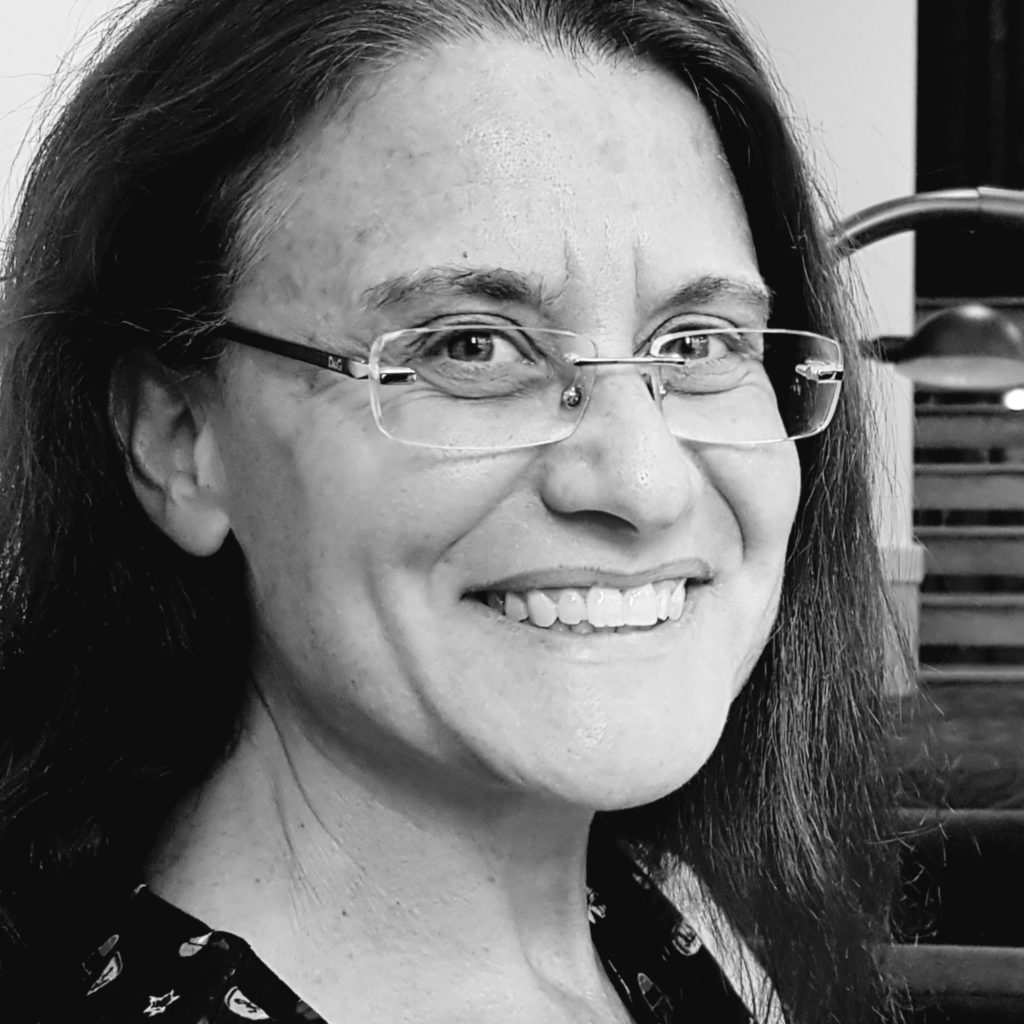 Carlie Howell is a composer, multi-instrumentalist, vocalist, and media artist. She has a degree in Jazz Performance on Bass from the University of Toronto, and has spent the last decade studying the music, movement, language, and pedagogy of Brazil. Her passion lies in collaboration, working and performing with composer-collectives, and fusing traditional styles with contemporary contexts. Carlie writes and arranges across genres, complementing timeless melodies with rich harmonies, rhythmic explorations, and autobiographical poetry in English and Portuguese. Her work explores themes of relationships, queerness, depression, redemption and, ultimately, love.
Coreen Morsink, Canadian/Greek composer, bases her compositions on ancient Greek music and unusual microtonal tuning systems. Her works have been premiered by Carla Rees, Chenoa Anderson, Karin de Fleyt, Mizuka Yamamoto, Kevin Komisaruk, 432 Chamber Orchestra (Ivan Yanakiev conducting), Sarah Watts, the invoke Quartet and Peter Sheppard Skaerved in Canada, USA, UK, Belgium, Bulgaria, Greece and on the BBC Radio 3. She has a PhD from Goldsmiths (Roger Redgate tutor), teaches at St. Catherine's British school, Athens and enjoys life in Greece with her husband and their daughters spending her spare time tending her flowers and swimming in the sea.
2021 Teen Composer Award
APPLICATIONS ARE CLOSED
The Teen Composer Award (TCA) will provide an invaluable and practical composition experience, one-on-one mentorship, professional development resources and an introduction to the Canadian contemporary chamber music community.
TCA Info:
Application deadline: November 25, 2020
During the late fall and winter of 2020 and early 2021, the selected composer will be mentored online by Canadian composer Christina Volpini, who will serve as a guide for the composition process.

The recipient of the award will compose a 5-8 minute work for piano trio (violin, cello, piano: unconducted) The selected composer's work will be given a pre-concert performance in late March during a digital concert broadcast as part of the 2021 PIVOT national early-career composer program in collaboration with the Canadian League of Composers and the Canadian Music Centre.

The recipient will receive high definition video and audio of the performance; this documentation will also be shared via Continuum's online platforms.
Previous Winners:
Previous Winners: Cindy Chen (2017), Erik Kreem (2018), Sarah Lu (2019), Zach Payne (2020)
Welcome to Our New Digital Home!
As we begin our 36th season, we launch our new website to connect better with you!
Our new website designed and developed by Xuan Ye is where you will find up-to-date information on upcoming events like our new PRESS PLAY digital episodes, as well as important announcements about mentorship opportunities. Links to our social media platforms and our YouTube archive of live concerts from the past 10 seasons are below, and if you would like to stay in touch on a more regular basis and with more detailed information, sign up for our project based newsletters.
Importantly, we are also working to create a searchable digital archive that will be accessible through this website. The archive will feature information on every concert, collaborative project and tour dating back to 1985 including programming, personnel, commissioning practices, audio and video recordings as well as graphics and design. This is part of a legacy project detailing Continuum's rich impact and influence on contemporary art music in Canada. Stay tuned for updates!
Thank you for visiting!
HATCH 2020 Videos
Hatch 2020 has wrapped and was a big success!
You can watch all three videos below:
Music on Programme 1:
Stand Alone (2019) composed by Michael Oesterle (CA), performed by Roxanne Sicard, violin
The Spirit and the Dust (2015) composed by Dinuk Wijeratne (CA), performed by Nikki Joshi, marimba
Between Lines* (2020) composed by Robyn Jacob (CA), performed by The HATCH 2020 ensemble
Music on Programme 2:
Lines (1999) composed by Harry Freedman (CA), performed by Madison Freed, clarinet
hiraeth (migrations no. 2) (2017) composed by Emilie LeBel (CA), performed by Florence Laurain, flute
abject* (2020) composed by David Foley (CA), performed by The HATCH 2020 ensemble
Music on Programme 3:vez (2005, rev. 2015) composed by Ana Sokolovic (CA), performed by Allison Rich, cello
Nocturne for ES** (2019) composed by Anna Höstman (CA), performed by Jackie Leung, piano
Nothing to do with Explosions* (2020) composed by Holly Winter (CA) performed by The HATCH 2020 ensemble
* world premiere/ ** Canadian premiere
Supported by
Dr. Peter Burns