Announcing Continuum's Artistic Producers
We are excited to share that Hillary Jean Young and Émilie Fortin join Continuum as Artistic Producers for the 2022-23 and 2023-24 seasons through our inaugural Mentorship in Artistic Production (MAP).
These wonderfully imaginative and inquisitive artists each bring a wealth of knowledge to our organization through their own unique multidisciplinary practices. Over the next two seasons, they will learn the day-to-day processes and procedures of Continuum including programming and curation, collaboration, commissioning practices, grant writing and reporting, contracting and scheduling musicians, working within a budget, logistics, marketing, and general event production.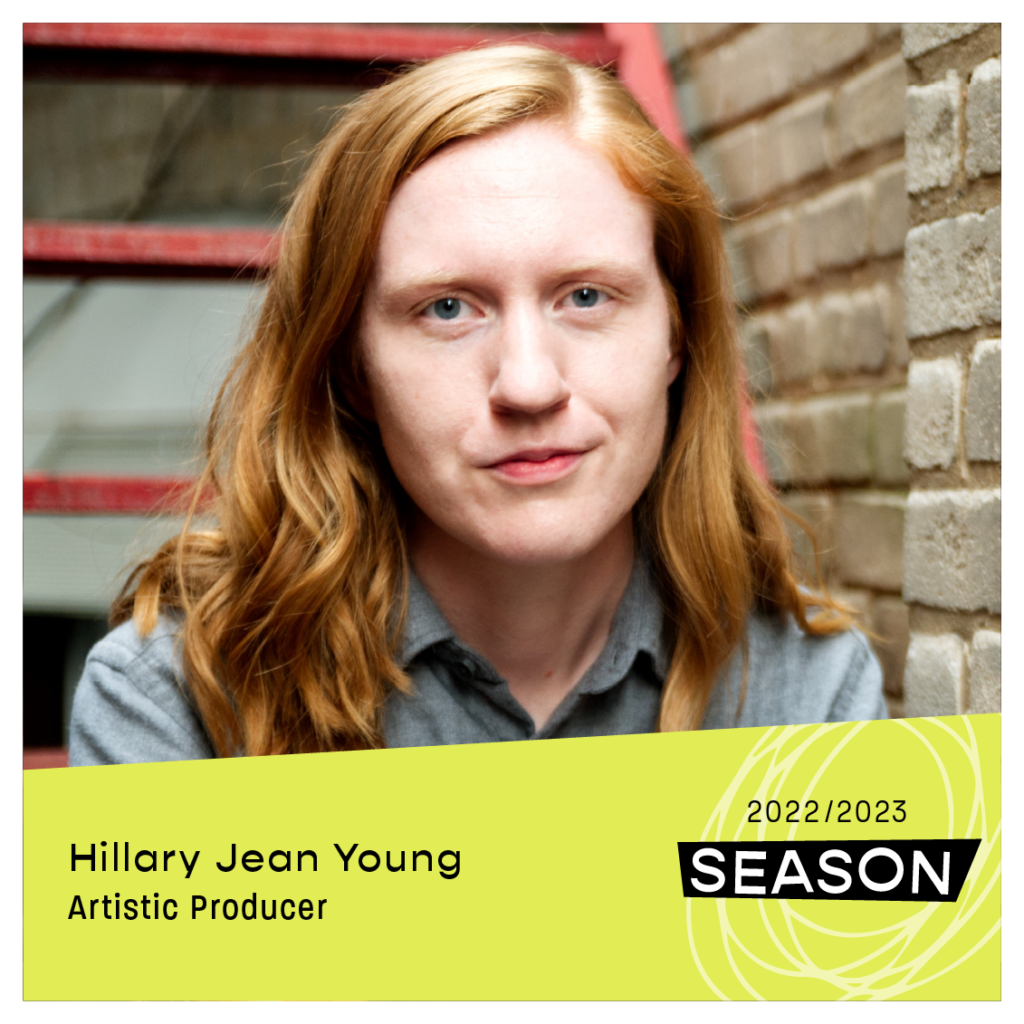 This two-year mentorship period will culminate in a concert co-curated by Hillary and Émilie in the Spring of 2024 complete with a Continuum's full budget and resources. This is a project we intend to continue every two years to help facilitate a new generation of Artistic Producers replete with knowledge of administrative infrastructure to go forward and create projects responsibly and sustain operations in good practice.
The MAP selection process was completed by a jury comprising Sanjeet Takhar, Artistic Director of The Music Gallery; Juliet Palmer, Artistic Director of Urbanvessel; Ryan Scott, Artistic Director of Continuum; and Christina Volpini, Continuum's Operations Manager.
---
Hillary Jean Young is a musician, vocalist, and improviser working in experimental music, new opera, contemporary chamber music, and electronic music. Hillary has performed with numerous ensembles and orchestras, such as kallisti chamber opera, OperaQ, red fish blue fish, and The Happenstancers. Hillary's operatic experience includes roles such as the title role in Janáček's Příhody lišky Bystroušky, Elle in La voix humaine, La Modista in Rota's Il cappello di paglia di Firenze, and Ghost 2 in the premiere of Lei Liang's Inheritance.With their queercore performance art duo, masc4masc, Hillary has curated, hosted, and performed in venues across North America, as well as released an album, Not Another Queer Movie, via people places records. In 2019, Hillary earned their Doctor of Musical Arts in Contemporary Music Performance from the University of California, San Diego (UCSD), where they studied with Grammy award winning soprano Susan Narucki. Since relocating to Toronto, they have participated in the Toronto Creative Music Lab, performed at the inaugural season of the West End Micro Music Festival, written for DOMINIONATED, and worked for Paper Bag Records.
---
Émilie Fortin's artistic practice revolves around three axes: the creation of new repertoire through close collaboration between performer and composer, the exploration of new sounds through improvisation, and teaching.
Constantly seeking to enrich the trumpet repertoire, she has participated in the creation of over forty works. Her future and present collaborations explore physicality connection with training in body mime, dance and theater. In 2018, she created the soloist collective Bakarlari and serves as its artistic director. Dedicated to solo contemporary and creative music by offering concert experiences outside the traditional framework, Bakarlari is supported by Le Vivier Group.
She is a member of the Toronto-based ensemble Freesound, a collective of artist-creators dedicated to commissioning and presenting contemporary music in all its forms, and of ék, a mime and sound duo with trombonist Kalun Leung.
As an improviser, Émilie is known for her rigorous approach to noise music. Her collaborations include recordings and performances with, among others, Éric Normand, the Ratchet Orchestra and GGRIL.
Émilie has participated in the soundSCAPE Festival (Italy), Summer Institute for Contemporary Performance and Practice (Boston), Oh My Ears Festival (Arizona), Re:Sound (Cleveland) and Northwestern New Music Conference (Chicago). She has worked with members of the International Contemporary Ensemble (Banff Centre for the Arts), Ensemble Musikfabrik (Bauwerke Brass Academy), Ensemble Modern (Klangspuren Schwaz) and Vinko Globokar (Laboratorium), and has studied with Marco Blaauw and Peter Evans. In Montreal, she has performed with Productions SuperMusique (PSM) and the Nouvel Ensemble Moderne (NEM).
A firm believer that pedagogy is an integral part of being a well-rounded performer, Émilie teaches in various high schools and music camps in the Montreal area as a specialist. For three years, she taught trombone, trumpet and music theory in Croix-des-Bouquets and Jacmel (Haiti) as part of the Ambassadors program. During the 2017-2018 season, she had the chance to hone her skills in community teaching with The Global Leaders team, having been one of 35 people selected from around the world to be part of this adventure. This allowed her to be a guest teacher in Bolivia (Conservatorio Plurinacional de Mùsica), Chile (Viva la Mùsica Panguipulli), Panama (Orquestra Veragüense de Vientos ) and Washington (DC Youth Orchestra Program).
As an ardent defender of the representativeness of brass instruments and the democratization of contemporary music, Émilie advocates for these issues as a presenter for organizations and conferences such as IRCAM Forum 2021, UQAM (Gender Differences and Inequalities in Music in Quebec), the Vivier Interuniversitaire and at the Canadian League of Composers. She is also a founding member of the Burning Brass Band, an ensemble that aims to increase the place of women, trans, non-binary and queer people in the Montreal brass band scene.
Originally from Abitibi-Témiscamingue, she studied at the Conservatoire de musique de Val-d'Or in the class of Frédéric Demers; she then studied classical performance with Lise Bouchard at the Université de Montréal. In 2017, she completed her Master of Music at McGill University under the tutelage of Russell DeVuyst.
Émilie has received grants from the Canada Council for the Arts, the Conseil des arts et des lettres du Québec and the Montreal Arts Council.
Émilie Fortin photo credit: Gabrielle Valevicius