Announcing Continuum's New Operations Manager
The Board of Directors of Continuum Contemporary Music announces the departure of Jason Doell, who will be stepping down from the position of Operations Manager at Continuum in mid November. We are excited to welcome Christina Volpini as the incoming Operations Manager, effective October 18, 2021. Christina enters this role at a time of financial stability in the organization, which positions us well to move boldly into our next phase of growth.
Jason joined us as Continuum's Operation Manager in January 2018. During his tenure, Jason worked closely with Artistic Director Ryan Scott to expand the organization's mentorship programming, contributing to PIVOT, Teen Composer Award, and Continuum in the Classroom programs, as well as implementing our summer mentorship program HATCH. Following three seasons of nearly all sold-out concerts, Jason played an important role in the organization's response to the global pandemic, including working closely with Ryan Scott on the development of our regular web series, PRESS PLAY. Jason was also the project manager for the development of our new fully accessible website and our new searchable archive which includes every Continuum concert and project since July 21st, 1985. Ryan and the Board are incredibly grateful for Jason's contributions to the organization, which have allowed Continuum to eliminate our deficit and establish a Creative Projects Fund for future large scale productions.
"I am very proud of everything Ryan and I have accomplished at Continuum. It has been an incredible period of growth and development for me and the organization, and I am thankful to Ryan, the Board of Directors, and all the incredible artists and organizations that I have worked with over the past four years for making my experience at Continuum such a meaningful one. I will miss being part of the team but I am also very excited to see what Christina and Ryan do in the future…It will be amazing!" — Jason Doell, outgoing Operations Manager.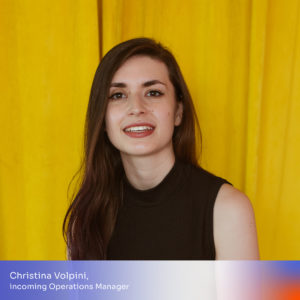 Christina Volpini brings experience from her previous role as Marketing and Communications Manager at the Hamilton Philharmonic Orchestra. During her time with the organization, Christina made key contributions to the HPO's sustained growth which saw increased ticket sales and over 100 small ensemble performances in the community, followed by a pivot to online talks and performances due to COVID-19.
An avid capacity builder in music spaces, Christina has demonstrated commitment to collaboration and social responsibility in the Arts and the contemporary chamber music sector. She was an organizer of the Montreal Contemporary Music Lab for two years and a core organizer of the Toronto Creative Music Lab for four years, both of which have been important community-led workshops for early-career musicians and composers. Christina also holds a diploma in Arts Administration and Cultural Management at Humber College. In addition to her work as an arts manager, Christina is also an accomplished composer. Her music has been performed at organizations such as Array Music, the Banff Centre, Esprit Orchestra, Soundstreams, and The Music Gallery, and she received first prize in the Chamber Ensemble category of the 2020 SOCAN Foundation Awards for Young Composers.
She has worked previously with Continuum in the capacity of Composer Mentor for the Teen Composer Award program and was co-commissioned by Continuum and Jumblies Theatre in 2019; this work will be premiered at the Grounds for Goodness culminating event in February 2022.
"Though there is still much ahead as the arts sector rebuilds, I believe Continuum has proven to be nimble and adaptive. It is an honour to join this organization, I truly look forward to working with Ryan and the board as we unlock new areas of potential and growth for the organization." — Christina Volpini, incoming Operations Manager
Continuum looks forward to the future vision of the organization that Artistic Director Ryan Scott and incoming Operations Manager Christina Volpini build.